---

A page out of history...
This is just one of the many articles written about Gerald Karwowski and/or Oak Clearing Farm and Museum. Our thanks goes out to the all reporters out there who continue to enlighten us with new and interesting tid-bits of our history. To the editors that allow it to be printed on page 10 section Z in small print and to you for fighting with the paper past the garbage and through the coffee stains you find something worth reading about.
Our history...may it never fade!
---

County Collector
BY ELIZABETH H. McGOWAN Journal Times

Whether touring the lofty halls of Washington, D.C.'s, Smithsonian Institution or beholding the unostentatious walls of Yorkville's Oak Clearing Farm & Museum, the public's most oft-inquired question of museum staffers never ceases to center around porcelain.

As in, "Where's the rest room?"

Oak Clearing Museum founder Gerald Karwowski still laughs while recalling an autumn encounter with a squirming Brownie troop.

"Where's the bathroom?" they asked in unison after touring a 19th century cabin on the museum grounds.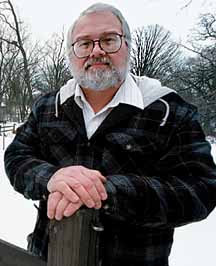 ---
Gerald Karwowski has turned his wealth of Racine County artifacts into the Oak Clearing Farm & Museum in Yorkville. He started his collection almost 30 years ago.
Photos by Mark Hertzberg
---
Not missing a beat, Karwowski, the ever-accommodating tour guide, used the question to continue his lesson about life in Racine County during the 1800s and early 1900s. As alarm crept into the girls' eyes, he laid out the options. One, there's a chamber pot under the bed. And two, there's a privy - a three-holer, no less - out behind the cabin.

"It's one of my favorite experiences," says Karwowski, 48, who has taken the curious on tours of his free museum since it opened in 1989. "Especially when I told them they'd have to light their way with a kerosene lamp."

Just what in the world is this ebullient, Santa Claus-like fellow doing on 90 acres of Yorkville land on Colony Drive between highways A and 11?

"I want to tell a story," Karwowski says about the cabin and gargantuan red dairy barn overflowing with thousands of artifacts from the county's agricultural and manufacturing past. "I want visitors to walk out having learned something about Racine County."

And he isn't only focusing on big players, such as Racine and Burlington. Bit players are also highlighted.

"No matter what part of the county you're from, I want everybody who walks into this museum to see something from their area," he continues. "I want them to make a connection."

Some of the almost-lost community names Karwowski wants to keep alive might ring bells with only the oldest of old-timers - such burgs as Caldwell Prairie, Corliss, Foxville, Gatliff, Horlicksville, Kilbournville, Kneeland, Lamberton, Linwood, Rosewood, Sylvania, Tabor, Thompsonville and Willow Creek.

The Racine native's predilection for amassing a collection began almost three decades ago when his wife requested old street brick as a border for the backyard garden of their Belle City home.

"I went out and dug all over the place," he recalls. "I never found any bricks, but I did find old bottles. And nobody could tell me much about them."

That led him to the library and the archive at what's now the Racine Heritage Museum. Eventually, he pieced his research into a rudimentary brochure about local beer breweries.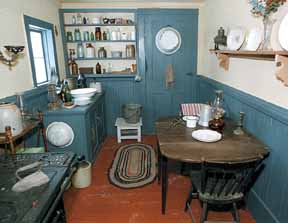 ---
The kitchen of the Rose-Callendar House on the museum grounds. The house is a former granary.
---
"My friends humiliated me about it," he says, laughing at the memory. "Then when I came out with that booklet, they all wanted signed copies."

Not surprisingly, an upstairs display cabinet in the Oak Clearing barn is titled "Bottled in the Belle City." Cases are crammed with an assortment of glass vessels that once contained concoctions such as soda pop, beer, milk and patent medicines.

Karwowski's bottles turned up on what he calls Root River mudlarking expeditions. That entails mucking around in the river bottom with your boots on feeling for bottles with your feet.

Local soda pop bottlers of yore included Billy's Bottling Works at 629-633 High St., W.H. Lingsweiler, P.J. Kohlman Jr., C. Bertram and Brandenburg & Gloede. Brewers providing a snoutful for thirsty residents went by the names of Fred Heck, Belle City, W.H. Weber and E. Klinkert.

Other exhibits - in and out of the barn - feature woodworking tools, tractors, wagons and other farm implements; fanning mills (grain separators); maps; trunks; the stories of Horlick Malted Milk, Case Corp. and S.C. Johnson & Son Inc.; an intriguing iron-clad egg incubator and the Bank of Union Grove's first safe.

Around the corner, visitors can plug into "Racine's Electrified Past." It's an electrical extravaganza of blenders, hair dryers, hair clippers, floor polishers, mixers and vacuum cleaners made by an assortment of former and current companies that played off one Racine invention: the fractional horsepower motor.

Visitors with an eye for scenery will be drawn to the wall of postcards with Racine County views. They're just a sampling of the 2,000-plus cards Karwowski has squirreled away.

He snaps up images at any chance. When a friend of the family of prolific Racine photographer Wilfred Marshall wanted to unload negatives and prints, Karwowski was first in line. He has also bought pictures and clip files from defunct newspapers such as Racine's Shoreline Leader.

"I'm like the guy chasing the hearse," he says. "I try to be polite about it. But if I see a newspaper going out of business, I ask, 'Is there anything you want to sell?'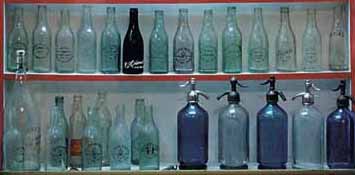 ---
Karwowski's bottle collection began by accident when he was searching for old bricks. His display includes beer, soda pop, milk and medicine bottles.
---
"You know why I have all this? It's because I spend night and day looking for them. I didn't get all this overnight. It takes searching and a real devotion to something.

"When I started this, it was a hobby," he says about what amounts to an entire antique store in his barn.

Now, it's an obsession.

His scouting leads him to estate sales, auctions, flea markets, antique shops and junk stores across the country. And he doesn't just collect.

Ask him a question about a county manufacturer, and he's a veritable Vesuvius. Valuable information spills from the man's every pore. Mention a local factory from any era and he can tell you what it spewed out - and when.

Research escapades guide him to his home library, patent offices, area libraries and museums.

He and Marie, his wife and museum partner, came up with this jingle: "If it wasn't made between Honey Creek, Union Grove, Raymond or Racine ... Then in Oak Clearing Museum it will not be seen."

OK, so there is the occasional exception. Karwowski couldn't resist a wooden invention called the smut machine. Anyone with farm savvy could tell you it's used for treating seed corn so it's disease-free.

But Karwowski, always the joker, likes to wink and tell visitors it's a place to grind pornography to a pulp.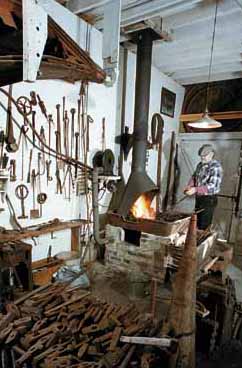 ---
Gerald Karwowski works in the blacksmith shop he moved to the Oak Clearing Museum from Rochester.
---
Another reward for his persistence came in the form of a blacksmith shop that operated in Rochester for 100 years beginning in 1855. He first set eyes on it in 1967. About 20 years later, he bought it all - bellows, forge, anvil, tongs, tools and horseshoes. Each item was marked, moved and painstakingly repositioned in the lower section of his barn called The Old Forge.

Former county executive Dennis Kornwolf, an amateur blacksmith, is one of a handful of volunteers at Oak Clearing Museum. He plays the part of village smithy for touring groups.

"Hey, he doesn't have to ask me twice," Kornwolf says about helping his friend Karwowski. "Firing up that forge is a great opportunity for me. I love to get in there and smell that coal smell. It's really unique. Getting things red hot, then bending them and polishing them. It's just fun.

"It's kind of like I've been driving around in this nice, efficient Volkswagen," he says, referring to the simpler blacksmithing tools he has at his Caledonia home. "And then somebody came along and said, 'How would you like to drive this Cadillac?' "

Volunteer tour guide Cheryl Abbott, who collects antiques at her Kansasville home, decks herself out in turn-of-the-century garb.

"People were there for me when I was growing up here," Abbott says. "It's time to give back to the community. I enjoy showing children where their roots are. Some of these things they've never seen before in their lives."

One of her favorite lessons is to ask the children if they know the origin of the saying: "Sleep tight and don't let the bed bugs bite." The prop she uses is an antique bed tucked in the museum cabin.

When children look at her inquisitively, she tells them that ropes strung on the bed's frame had to be tightened to make a firm surface for the mattress. And when your mattress was stuffed with straw or corn husks, it was quite likely you'd be snoozing with a few crawling critters.

The tiny cabin Abbott takes visitors through is a former granary. Karwowski has christened it the Rose-Callendar House - not because it sports a fresh coat of pink paint, but to honor the families who worked the farm beginning in the late 19th century.

William Callendar married Alice Rose. William and Alice had a daughter, Belle, who married a man named Frank Foster. The Fosters had three children - Paul, Alice and Mae.

The Fosters moved to Oak Clearing Farm after a fire destroyed their Union Grove home in 1920. The only item saved from the fire was a parlor piano now on display in the house with other family antiques Karwowski found stored on the property.

It was a common love of history that lured Karwowski from his Racine home to the Yorkville farm in 1988. He promised the Fosters - who are now all deceased - that he would preserve the farm and its surroundings.

The farmhouse, which isn't part of the museum, was once the tollhouse keeper's home on the nearby Plank Road (Highway A). William Callendar had the home towed by oxen to the site when it was abandoned in 1867.

"People walk into this museum and say, 'My gosh, what a treasure,' " Karwowski says.

No wonder.

"It's a passion, a calling," he says about his ever-mounting displays. "I'm like a heroin addict."

Karwowski, who just retired after a 30-year career at Case Corp., is sometimes amazed at his hankering for history. His high school teachers would probably be equally astounded. Though he later earned a general equivalency diploma, Karwowski dropped out of school to take a high-paying job at Case.

While he is content with his museum as is, he envisions it eventually becoming a miniature version of Eagle's Old World Wisconsin. For now, however, some of his enlargement plans have been stymied by state regulations.

But he's not letting go of those blueprints. He'll persevere with his proposal.

In the meantime, he will continue to give folks the best darn museum tour they've ever had. For free.

"I know I'm kind of goofy, but when people tell me how much they enjoy coming here, that's very gratifying," he says. "Just from showing people around I get a lot of joy."