Jay - Eye - See set records in racing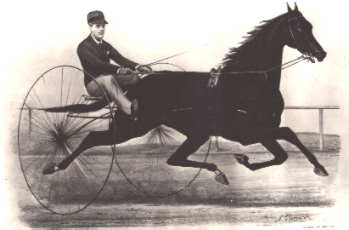 During the 1870s, Jerome Increase Case became interested in horse racing. He purchased a 200- acre farm south of the City of Racine where Jerome Park is today and developed the Hickory Grove horse farm. Case owned some of the finest horses in the Midwest, but the horse that became a world champion was considered by many the joker of the Case string.

Jay-Eye-See (named from Case's own initials) was foaled in 1878. He was bred by Col. Richard West of Lexington, Kentucky, and was an extra that was thrown in for $500 with a string of horses Case had purchased to make the purchase price of the lot fair. When the string was brought back to Racine and tried out, Jay-Eye-See was considered to be the freak of the lot. He would rack, pace, and trot indiscriminately. Edwin Bither, however, the farm's trainer, didn't give up on him and began to mold Jay-eye-see into a winning racer. As the horse was entered into races he continued to perform well, each time getting a little better.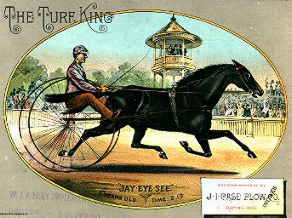 In 1883, Jay-Eye-See was immortalized in a Currier & Ives print, which was a great honor to hold. The same year, Case was offered $50,000 for his horse but wouldn't even consider the bid. Instead, Case challenged the world for $10,000 that no horse could beat his famous Jay-Eye-See. There is no record of any takers.

In, 1884, Jay-Eye-See proved himself by setting a new world record of 2:10 at the Providence, Rhode Island track.
After Jerome Case's death, his son Jackson I. Case changed Jay-Eye-See's gate to that of a pacer. On the Kite track at Independence, Iowa, in 1892, Jay-Eye-See paced a mile in 2:06 ˝ . This world record, combined with his 2:10 trotting record, established Jay-Eye-See as the world's all-time champion double-gaited performer.

When Jay-Eye-See was put into retirement, people from all over the country would stop at the Hickory Grove farm to watch him.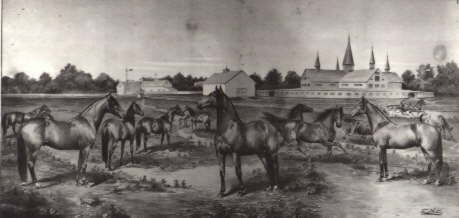 In 1909, the little black gelding that astonished the horse -racing world died at the age of 31. He was laid to rest, in a park-like plot, on the Charles Bull farm on Durand Avenue, across from what today is the Case Transmission Plant. Jay-Eye-See, however, had left his mark forever in the annals of horse racing.

The Jay-Eye-See fame continued when the J. I. Case racing team built a high powered car named Jay-Eye-See and years later Otto Wadewitz of Racine built two powerful speed boats named Jay-Eye-See I and II.

Today there is still a street named Jay-Eye-See on Racine's southside to remind us of this amazing champion.


---
Racinehistory.com would like to thank the following for allowing us to reprint the below story written by Joe Buttweiler of The Racine Journal Times, July 3, 1997
The Racine Journal Times and RacineCounty.com are not affiliated with racinehistory.com.
All Logos are designed and trademarked by them for them and should not be reproduced or copied
without consent from each one respectively
Diggers uncover remains of Case's famous race horse
Eighty-nine years after he was led out to pasture for the last time, the remains of one of the most famous racing horses in the world were exhumed in Mount Pleasant Wednesday.
A team of historians, horsemen, an archaeologist and backhoe operator unearthed about 80 percent of the bones of Jay-Eye-See within spitting distance of the spots where several people said they'd be.
But it was a woodchuck that was given much of the credit for the find. After several hours of fruitless digging, a couple horse bones were found next to a small hole.
Soon, bones believed to belong to the famous horse belonging to Jerome Increase Case were raining out of the backhoe bucket, much to the delight of the 20 or so elated diggers and onlookers.
"What a relief," said John Van Theil, a local historian who hopes to arrange a more fitting burial and monument to the horse.
In the 1880s and 1890s, Jay-Eye-See notched several harness-racing records and is still the only horse to set world records in two different gaits.
He was featured on trading cards and Currier and Ives lithographs, and was used to sell cigars, a harness bit and, of course, farm implements.
In a day when virtually everyone used horses, Jay-Eye-See was a star that people could easily relate to, said John Urhausen, a Racine native who raises harness-racing horses in Elkhorn.
"He was famous worldwide," said Urhausen, who won Jay-Eye-See's enshrinement in the Wisconsin Harness Racing Hall of Fame in January. The horse was inducted into the Trotting Horse Museum Hall of Fame in 1990.
Wednesday morning, Urhausen and his wife, Elaine, and son were among the eager onlookers in a field south of Highway 11, east of the former golf driving range.
They watched as Tony Azarian of Azarian & Sons Inc. peeled off layer upon layer of soil from the land. It is to be graded soon as part of a shopping area including a Menard's store.
Among the onlookers was Melton Jones, 90, who remembers sitting across the street on his parents' porch when the horse was taken out of the barn for the last time.
The 31-year-old Jay-Eye-See was wobbling, led by one man in front and one on each side, Jones said.
"All of a sudden he just disappeared down in the hole," Jones said. "I don't know how they did it."

As he watched the excavation, Jones said he figured the horse was buried slightly to the northwest of the spot where archaeologist Dan Joyce was directing the scraping Wednesday. Jones wasn't the only one with a suggestion about where to dig. Elaine Urhausen, who recently visited the field with Case descendent Caleb Case, pointed to a slightly different area.
Local historian Jerry Karwowski, leaning on a shovel with the words "Jay-Eye-See or Bust" painted on the stem, suggested the horse might be under a slight rise to the south of the digging.
"How come they don't make a bone detector?" Azarian said with a laugh, shouting from the cab of the Case loader/backhoe.
Joyce said he expected the burial spot would be two to three feet deep, in mottled soil, and that most of the bones would be intact.
But could any old horse bones be mistaken for Jay-Eye-See's?
According to Karwowski, horses that died back then were sent off to glue factories or rendering plants. That this horse was buried at all is a tribute to its significance.
As the hot sun crossed the mid-point in the sky, enthusiasm for the dig waned, but the devoted persisted.
Then about 2 p.m., Karwowski, a former bottle digger, came upon the woodchuck hole with the two bones by it. Nearby was a pile of stones that seemed to be a marker of sorts, so Azarian dug in with the backhoe.
Soon, he was bringing up bones.
"I think it's great," said Joyce, a curator with the Kenosha Public Museum. "Frankly, I'm kind of surprised. It was like looking for a needle in a haystack."
As diggers dug out most of the rest of the bones with hand tools, others laid them out on a blanket.
By late afternoon, Joyce said it appeared they'd recovered 80 percent of the bones, including large leg bones, several teeth and parts of the neck and back.
"Now we can give a proper burial that will give him more of the recognition he deserved," Van Theil said.
He said the bones will be kept until a fitting burial site can be found, possibly in a city park. "It depends on who takes an interest in funding the marker," Van Theil said.
---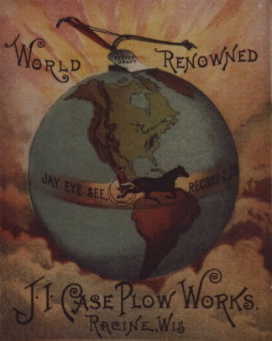 J.I.Case Plow Works advertisement, notice Jay-Eye-See running around the world.

J.I. Case Plow Works ???

Jerome I. Case owned two companies bearing his name, J.I.Case Threshing machine Co. (1842) and J.I.Case Plow Works (1876). The later was organized under the name Case-Whiting Plow Company, his partner E.G. Whiting, was the inventor of the center draft walking plow. Two years later Case bought out Whiting and renamed the business J.I.Case Plow Company. The business was reorganized in 1884 and named J.I.Case Plow Works. Jerome Case withdrew from the firm in 1890 and his son Jackson I. Case became the company President. Later Henry M. Wallis Jerome Case's son-in-law became president of the firm.

The J.I.Case Plow Works was located in the factory buildings once located at the n.e. corner of Water and Marquette streets.

After his death in 1891, Jerome Case in his will disposed of all interests in the J.I. Case Threshing Machine co., and left the Plow Works to his family. This transaction later created a problem, when mail came to Racine address simply J.I.Case Racine, Wisconsin. Each piece of mail had to be opened to determine which Company it belonged too. This continued until 1928, when the J.I. Case Plow works was sold to the Massey-Harris Company. Later Massey-Harris sold all rights to the "Case" name back to the original J.I. Case Company.

<! -- End of Menu Table -->





---


Copyright © 2000,2001,2002 Oak Clearing Farm & Museum
All Rights Reserved